2022-04-24
10873
48
2118
3 minutes.
Program for automating sales with Upsell pages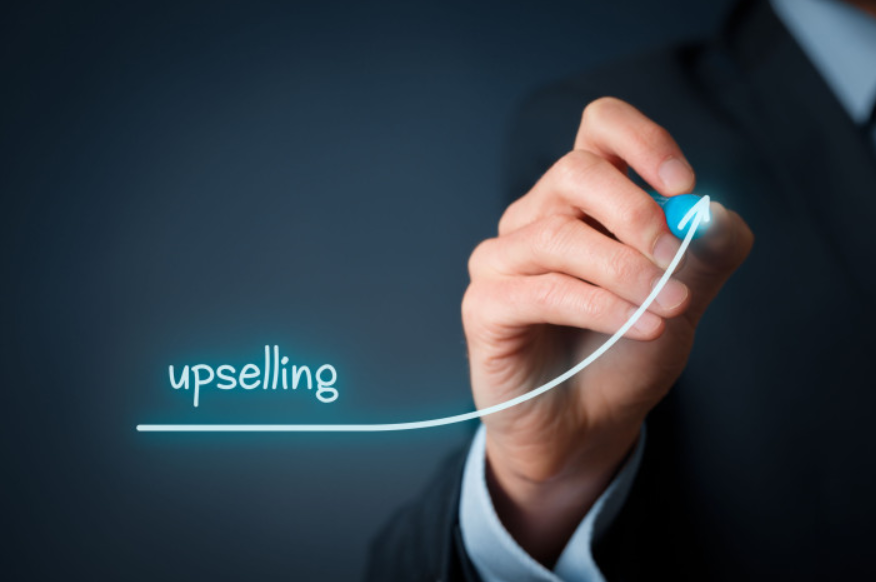 What is an upsell?
Upsell (Up-sell) - a way to increase the average order value and, in general, sales volumes. Using this tool, the seller follows a special strategy: when the buyer is looking for a certain product, the seller offers him a product with improved characteristics at a higher cost. For example, it can be a product of higher quality and modern, from a well-known brand, etc. At the same time, the buyer needs to be convinced that the proposed option is a more profitable and in every sense the best purchase.
An important point: the buyer is offered the same type of product that he was looking for. For example, this is a TV. Using the upsell method, you can encourage a customer to buy an unplanned 32-inch TV instead of a 43-inch one.
Link to source.
Up sell, cross sell and down sell – what are the differences?
There are two popular approaches to increase the profits of an online store: Cross-sell and Up-sell (cross-selling and raising the amount of the sale). Usually both approaches are not translated or explained enough to be understood. Therefore, we will give a description of how they differ and how to use them for an integrated store:
Up-selling or raising the amount of the sale is the motivation of the buyer to spend more money in your store, for example, to buy a more expensive model of the same product, to add options or services to the purchased product.
Cross-sell or cross-selling is also the motivation of the buyer to spend more money, but through the sale of products from other categories than the one originally selected by the user, i. e. primarily selling related products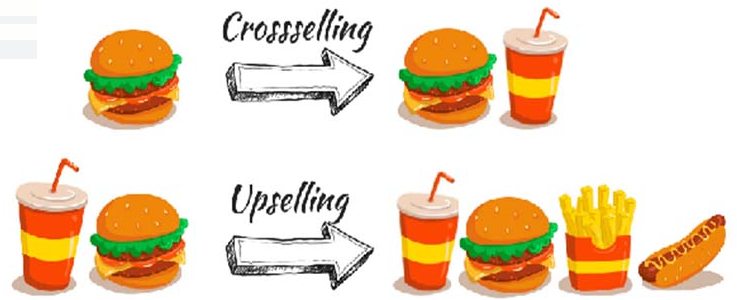 Both terms are often used interchangeably, because in both cases the same task is solved - increasing profits from one order. However, understanding their differences allows you to better organize both methods and increase profit from the order more efficiently.
What is an Upsell page in general. Imagine that you are trying to buy a product in an online store, for example, a mobile phone. After choosing the phone model you like, you click on the big "Order" button and automatically go to the page where, in addition to this mobile phone, you are offered to take a keychain or case. Only after accepting or rejecting this offer will you be redirected to the direct checkout page. It turns out that the main purpose of Upsell pages is to offer users additional products that are relevant to the main product.
What is it for? Firstly, with the help of such pages, an online store can earn much more money. After all, in addition to the main product, a person can buy a few more additional ones (sometimes the amount spent on additional products exceeds the cost of the main product). Secondly, such pages are useful for buyers, because a person can be offered something that perfectly complements the main product. Most often, Upsell pages are used in the information business (when they sell some kind of video courses or training programs), as well as in classic online trading (as is the case with an online store).
What exactly should be sold on such pages? It must be a relevant item. For example, it is foolish to try to sell a bottle of vodka in addition to a cell phone. As mentioned above, products such as cases, interchangeable panels, key chains, etc. are ideal here. Another condition is that an additional product should not cost very much, because initially a person did not plan to buy anything other than the main product and there simply may not be enough money. The product should be inexpensive, but necessary and useful. Remember that the buyer has already decided to buy something from you. This means that he trusts you and considers the deal profitable. Therefore, you only need not to frighten him away, but to help in the selection of additional products and accessories. And the excessive persistence and perseverance that you can show when trying to sell the person something else can frighten off the client. Instead of persistence, show kindness and care, showing that this product is really necessary and useful. Use all the main arguments in favor of buying an additional product - low price, benefit from use, pleasant appearance, etc. Be sure to include photos of this product. For example, if we are talking about the same phone and a case for it, then show the case separately in 1 photo, and the case worn on the phone in the second. Let the buyer see what it will look like.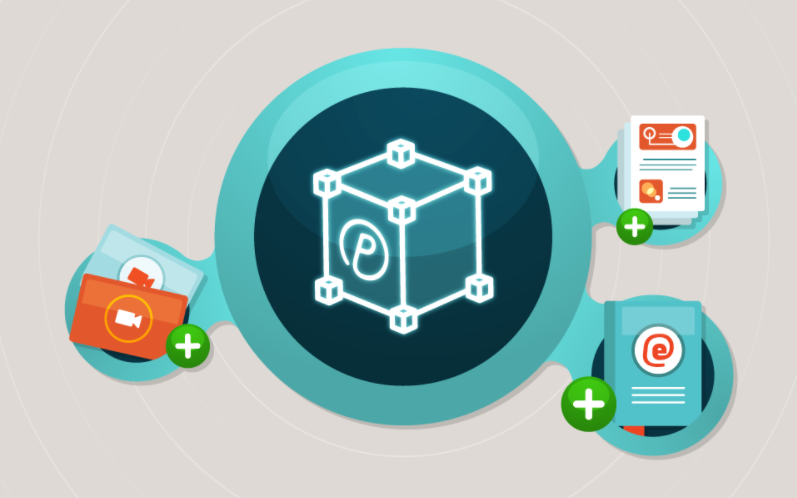 The upsell page should be as simple and informative as possible. All information should fit on one screen (no scrolling). Briefly describe the product itself, its advantages for the buyer, indicate the cost and photo. For additional motivation, you can use restrictions on the number or time. For example, in the first case, you can say that if you buy a case along with a phone, you will receive a discount (but the discount only applies to 100 cases and you need to be in time). In the second case, we can say that the promotion is valid for several days. All this will encourage a person to buy additional goods. How to make a product catalog for upsell pages.
Upsell examples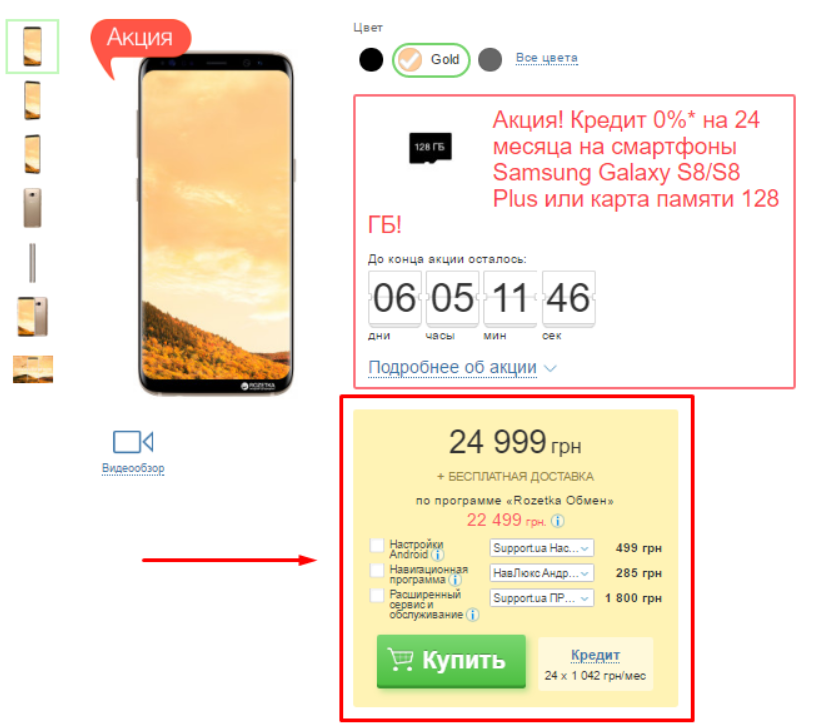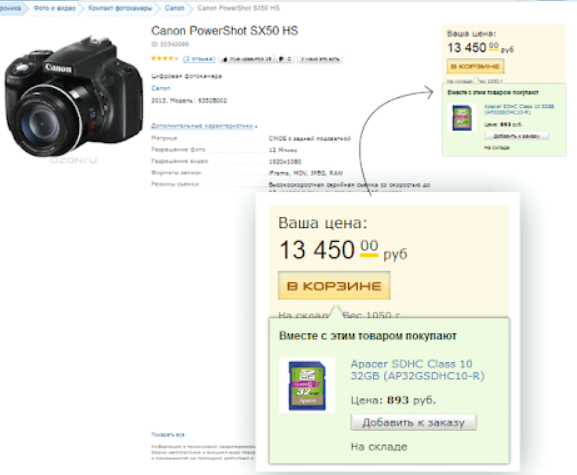 Sales automation software from ElbuzGroup

In addition to the Upsell-pages function, the program has many more useful functions:
Read detailed instructions on how to create your own product catalog based on the marketplace catalog: