2022-04-24
152370
52
9856
3 minutes.
How to create an online store on the InSales constructor
Insales is a professional website builder for online trading with the functions of a CMS platform. The platform offers extensive resources for product placement, business promotion and online sales. With its help, you can create online resources based on ready-made templates, integrate your store with various trading and advertising services, and promote it in search engines.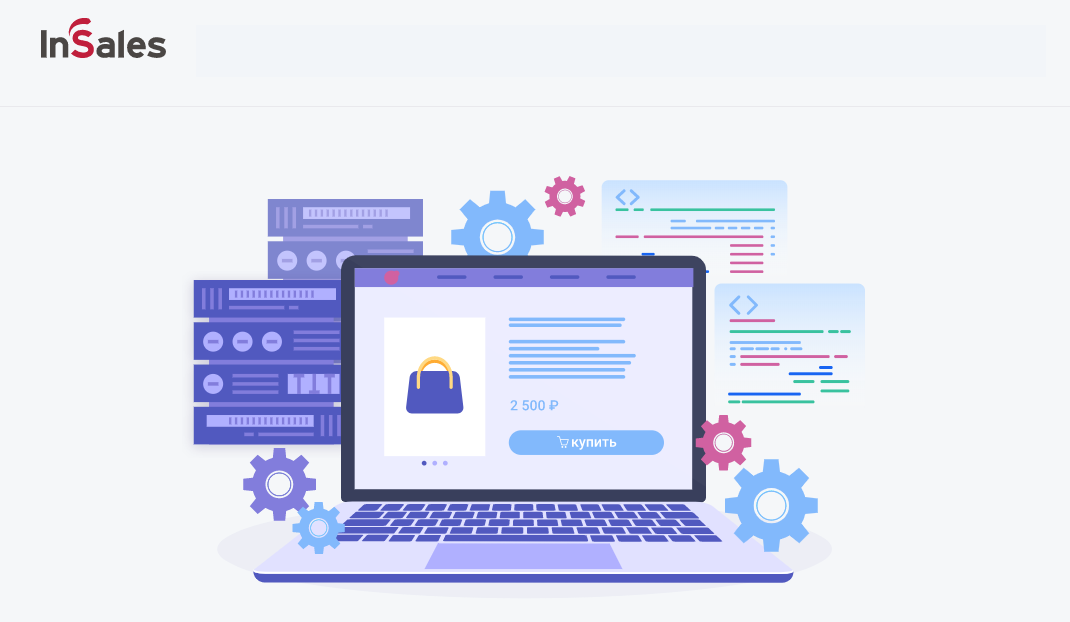 At the initial stage of acquaintance with the platform, some difficulties are possible, however, having figured out how to create a website on InSales, most of the routine processes can be automated using special software.
Functionality of the Insales platform
Even beginners can create a site on InSales, and the resource has quite extensive functionality:
Create a directory.
Depending on the tariff plan, you can add up to 30,000 product items. For content filling, there is a built-in description editor, the functionality of searching and sorting positions by names, articles, and other parameters.
Import and export.
Filling in cards is possible both in manual mode and in automatic mode (mass loading in XML, CSV, YML, 1C formats). You can also specify the settings for automatic updating of prices and product availability. Similarly, you can upload your price list in the desired extension for use in other programs and services.
Ordering, delivery and payment.
The user can edit the order forms to suit his needs. The site supports any payment methods, ranging from common payment systems, and ending with payment by card or cash upon receipt. Shipping cost calculation is available for all known transport companies or at a flat rate.
Design.
Various visual design options are available in the constructor, ranging from free templates to paid ready-made solutions or the development of an individual turnkey site structure.
Promotion.
One of the main differences of the platform from similar offers on the market is the presence of built-in sales channels in it. The portal is synchronized with all popular marketplaces and price aggregators, moreover, it is possible to launch contextual advertising directly from the admin panel of your resource.
Difficulty loading or unloading products on InSales yourself
It will be a little difficult for an inexperienced user to figure out how to unload products on Insales the first time. In addition, when filling the resource with content, a number of other problems may arise:
Difficulty finding a file to upload.
Suppliers can provide price lists in documents with different extensions, moreover, some of them often lack certain attributes, such as photos or technical specifications, which is why product cards have to be created manually.
Poor technical support.
The waiting time for a support service can range from several hours to several days, and advice does not always help to solve the problem as quickly as the user needs.
Inability to bulk add data.
When working with price lists in different formats, you will have to load them into the constructor in small groups. In addition, in packages that are inexpensive, there are certain restrictions on the number, due to which you have to add information manually.
Promotion problems.
Despite the extensive advertising capabilities of the platform, without basic knowledge of SEO optimization and analysis of your target audience, it will not be possible to make your store famous and profitable.
Integration of the program for automating the work of the online store E-Trade Jumper
ElbuzGroup is an IT company specializing in creating software products for online trading. Over 14 years of presence in the market and a detailed analysis of the features of online business, the developers have managed to create a unique and versatile software product that has already been evaluated by more than 9,000 online entrepreneurs. The innovative development of E-Trade Jumper provides comprehensive automation of online stores, from the formation and updating of content, and ending with effective pricing and promotion.
Among the features of the software are parsing and structuring information collected from any sources, including competitors' stores, mass creation of product cards, setting margins based on RRP. The service integrates with any CMS and platforms, works stably and helps not only to solve all issues related to content filling, but also to increase the company's turnover by several times due to an integrated approach to sales organization.
Step-by-step instructions for uploading products to InSales
Exporting products from Insales to E-Trade Jumper for further work with the main catalog is quite simple. To do this, it is enough to save the document with the price list in any convenient format, such as XML, and transfer it to the software by pressing the "Upload to catalog" button. It can update all information, including information obtained from suppliers' prices, parsing price aggregators and competitor sites.
To transfer the updated data back to the store, the procedure is as follows:
In the "Upload directory" window



click on the button with the "+" sign and select the XML extension (Yandex Market YML), this format will be used to update the store.

In edit mode (button with a pencil symbol), make the necessary changes and check the boxes for the attributes that you want to export (product category, description, photo, technical parameters, cost, availability, etc. ).



Set up automatic data refresh (all or selected).
Advantages of the program for uploading products to Insales from Elbuz
The built-in tools of the E-Trade Jumper program allow you to solve a wide range of tasks related to filling your resource with content in automatic mode.
Perform bulk import of xml products on InSales with all the necessary attributes, including photos, videos, detailed descriptions and characteristics.
Set the schedule by which the content will be updated on the site as prices change or certain items are available from suppliers.
Eliminate errors that occur due to the human factor when manually adding cards.
Monitor competitors, set up pricing and create profitable offers for potential customers.
Speed up store filling and add from 2000 cards per day, adapting them to your design and needs.
Save money, because in comparison with the salary of a content manager, which is from $500, the rental of the program is inexpensive - only $87 and pays off in the first month of use, and often even faster.
Create an online store that will work itself!
Article source text by Anne Handley
Ann Handley, Content Manager at MarketingProfs blogger, writer, content marketing veteran and digital marketing pioneer. Everyone Writes is a Wall Street Journal bestseller.